RECON is a leading geotechnical contractor providing innovative solutions to complex geotechnical challenges.
Overview
We have worked with various industrial, commercial, and government clients to mitigate foundation and subsurface problems. We offer the following geotechnical construction services: soil modification, groundwater control, and deep foundations. Learn more about each service below.
Our parent company, Keller, is North America's leading geotechnical construction expert, offering the full suite of geotechnical techniques.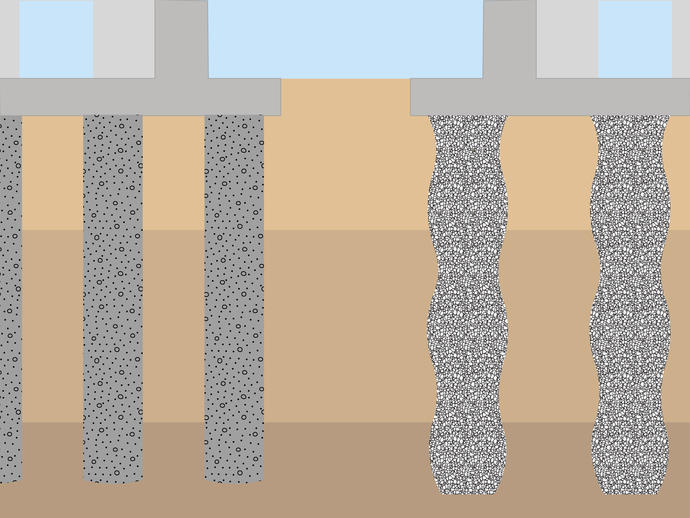 RECON provides clients with an economical, reliable, and time-saving way of satisfying a difficult set of technical parameters related to the remediation of contaminated soils. We perform soil modification work with owned equipment and experienced equipment operators. Our techniques have numerous civil and environmental applications, such as providing stable ground support for building and bridge foundations and retaining structures, liquefaction mitigation, groundwater control, temporary support during an excavation, and containing hazardous wastes and sludge.
RECON's soil modification techniques include mass soil mixing, auger soil mixing, deep soil mixing, and allu mixing head.
Soil Mixing
Soil mixing is a construction technique that uses an engineered grout or another reagent to modify soil's physical or chemical characteristics without excavating. The intent is to modify the soil so that its properties become similar to a soft rock such as clay shale or lightly cemented sandstone. RECON uses augers or excavator buckets to mix reagents with the existing soil to form these mixtures. RECON has used soil mixing to treat contaminated soil, sediment, and sludge. The technology is proven effective for treating both inorganic and organic hazardous constituents. Once the material has been stabilized, it can be excavated if needed.
Deep Soil Mixing 
Deep soil mixing is a soil improvement technology used to treat soils in-situ to improve strength and reduce compressibility. The process involves blending the soil with a reagent and pumping that mixture through a hollow rotating kelly bar to form a cement column. Powerful augers are used to mix the slurry of possolanic additives into a soil or sediment in-situ to stabilize soils for construction purposes. 
Deep soil mixing provides a safe construction method and omits the need for deep excavations, temporary works to adjacent buildings, export of contaminated fill, and does not require importing fill material. This method reuses the existing soil, reduces the disruption on nearby utilities due to inducing low vibrations, and significantly reduces off-site disposal needs.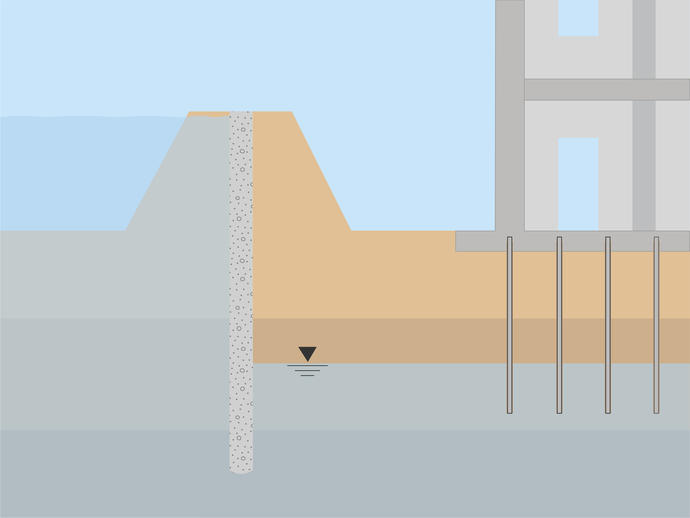 Groundwater control technologies include a variety of applications. These barriers are designed to stop groundwater from migrating into a construction zone or transporting hazardous substances down-gradient. The most common application includes subsurface barriers constructed using the slurry trench method. RECON has completed numerous groundwater control projects, and our program managers and project managers oversee every aspect of the project to provide long-term and value-added solutions to our client's most complex geotechnical challenges. Our common groundwater construction techniques include dewatering and construction cut-off walls.
Cut-off walls
Cut-off walls are underground walls with very low permeability to impede groundwater flow and support excavation and structures. For decades, cut-off walls have provided cost-effective, long-term solutions for many groundwater control problems. Cut-off wall construction requires specialized equipment such as excavators, cranes, and clam buckets.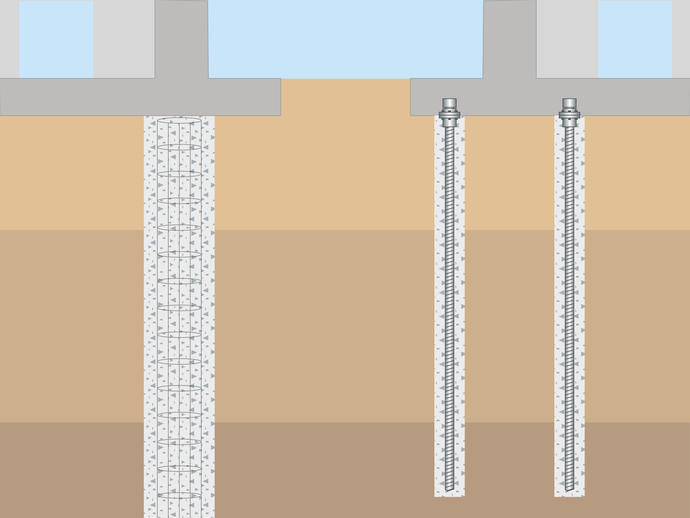 Deep foundations support structural loads when competent soils or rock in shallow foundations are not feasible due to weak, compressible soils near the ground surface. RECON is experienced in various deep foundation methods and techniques to provide long-term and cost-effective solutions, such as driven piles, drilled piles, diaphragm walls, and grouting.